If you're looking to market your brand or business, then influencers are a vital component of your strategy. But how do you find influencers for your needs? Several software programs can help you find influencers. This article will discuss the seven best software for finding influencers. We'll also provide tips on how to use these programs effectively.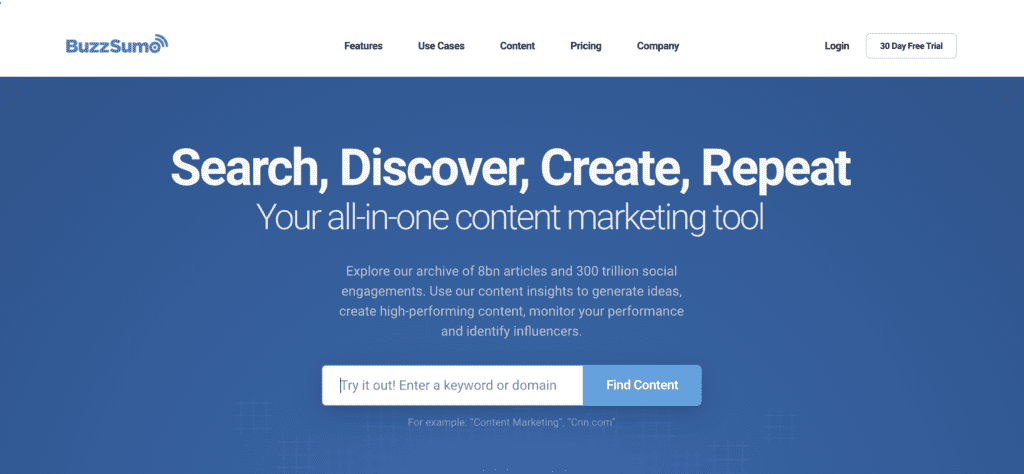 The power of BuzzSumo is unrivaled, but it can also help you connect with the right influencers to improve your marketing campaigns. With its search features, you may sift through millions of accounts and pick out the most relevant and interesting ones.
BuzzSumo is a powerful tool for generating high-quality content that is liked and shared. It aids in identifying important influencers and allows users to research social media on various platforms to determine what works best. BuzzSumo's other standout feature is the ability to save all of the excellent material you discover on the site, making campaign inspiration a breeze.
With BuzzSumo, finding influencers becomes simple, thanks to its detailed search features. You can delve into millions of profiles to identify suitable influencers that align with your marketing strategy. Its added functionality of saving interesting material ensures you're never short of campaign ideas.
Pricing: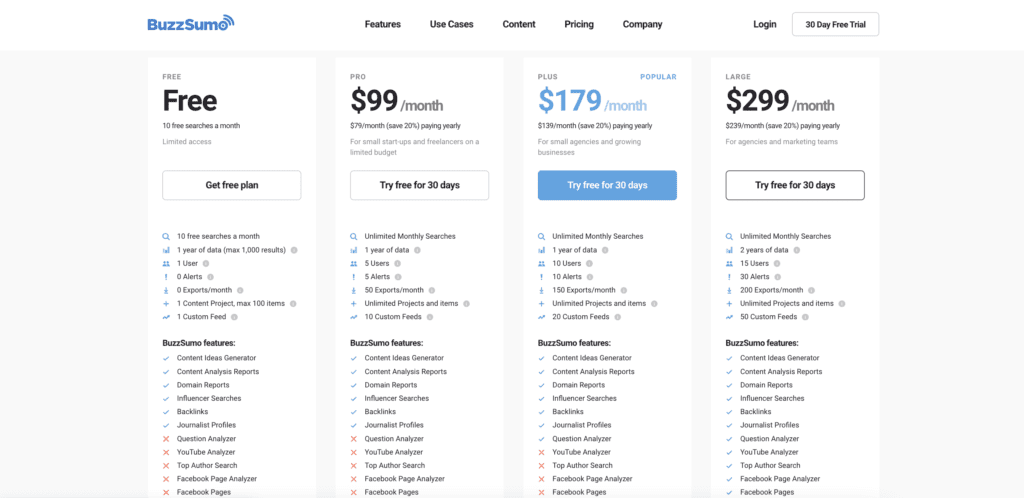 BuzzSumo offers:
Free plan
Pro: $99 per month
Plus: $179 per month
Large: $299 per month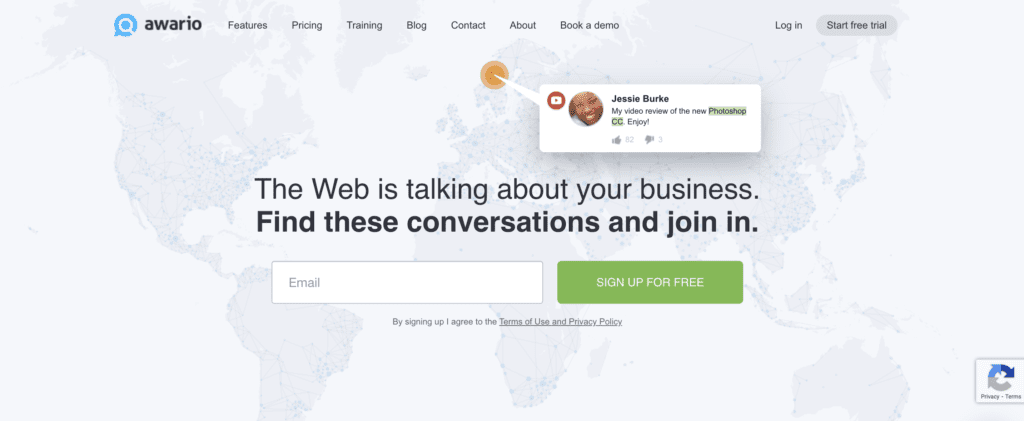 Track conversations about your brand across various platforms with Awario. Through monitoring brand mentions and keywords, Awario helps identify influential brand supporters. Its sentiment analysis feature offers insights into public perception, aiding in strategic influencer collaboration.
Awario listens to what people say about your brand on social media, news blogs, forums, and the web. This can be useful for discovering brand supporters and specialty influencers. You can track the most active advocates by monitoring mentions of your brand and following the most enthusiastic supporters. To get a list of the latter, you should monitor industry keywords such as "time management app" and "time management tool" and the popularity of your rivals' brands.
Awario assesses social media influencers and bloggers based on their reach and number of followers or daily visits to their blogs. This can help you identify influencers that could promote your product or service to their audience.
Awario tracks positive and negative sentiments around your brand, which can be important for understanding public perception. This information can help you decide when and how to engage with influencers.
Awario's dashboard summarizes all the activity surrounding your brand, including detailed insights into individual posts, users, and locations. This information can help you better understand who is talking about your brand, where they are located, and what type of content they are sharing.
Pricing
: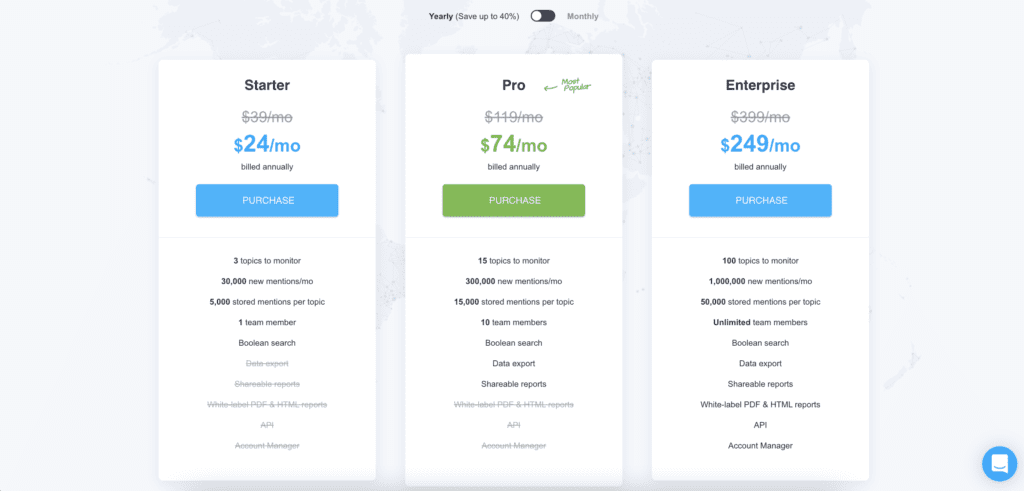 Awario comes with the following plans:
Starter: $24 per month
Pro: $74 per month
Enterprise: $249 per month
The influencer search includes all plans and the free trial.
Traackr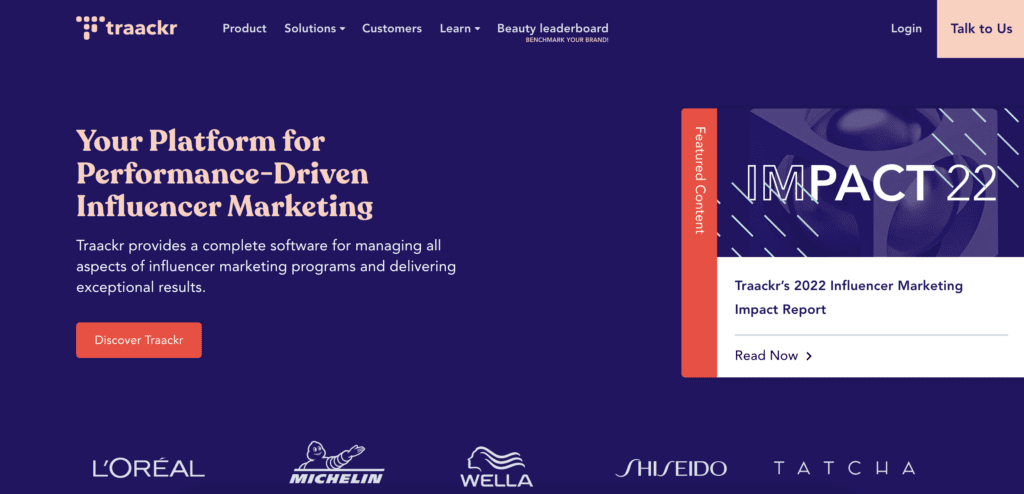 This influencer marketing software simplifies the entire process, from influencer discovery to tracking campaign success. Traackr's database allows you to filter results based on a variety of criteria, ensuring you find the perfect match for your business.
Traackr handles everything from finding social media influencers to tracking the campaign's effectiveness, making it ideal for small and medium-sized businesses.
Because of its influencer database, the tool makes influencer identification simple. When looking for the best match for your company, you may filter the results based on the influencer's social media network, topic, language, location, age, gender, and brand affinities. The same criteria may also be used to define the influence of an influencer's followers.
You can sort your influencer campaigns in the app and track their success.
Pricing:
To access pricing, you will need to contact their sales.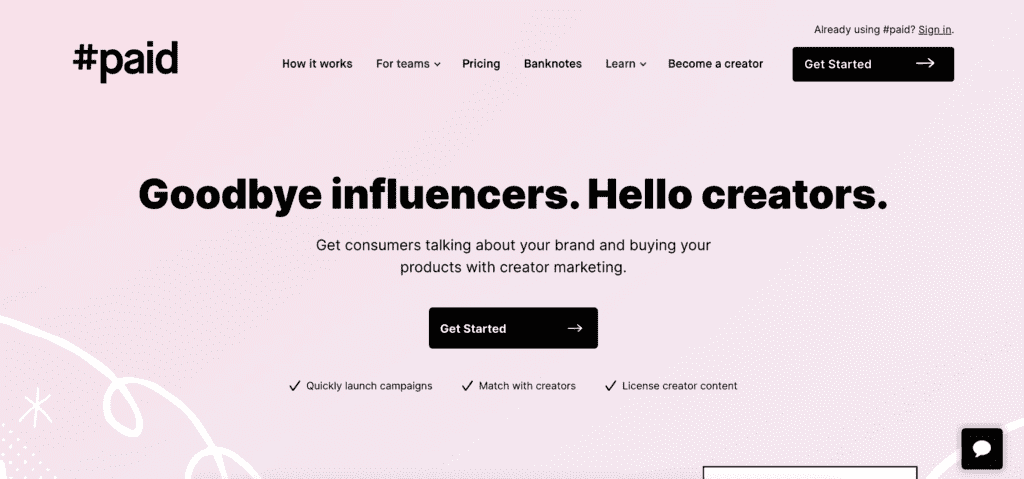 Connect with top content creators and transform influencer content into paid ad assets with #paid. Its unique algorithm identifies creators that fit your business, supporting seamless collaboration.
These are all pre-screened, pre-qualified individuals with the following corresponding to your target audience. They'll even offer suggestions so you can get a sense of the content they'll create for your campaign. You'll be able to access various tools for communicating and managing content. You can provide creators with comments inside the app to ensure that it meets your expectations exactly.
The tool also supports whitelisting of advertisements. You may utilize it to create ad sets for Facebook and Instagram if you enjoy a particular piece of material. Key campaign statistics, such as the number of individuals you reach and the ROAS, can then be viewed.
Pricing: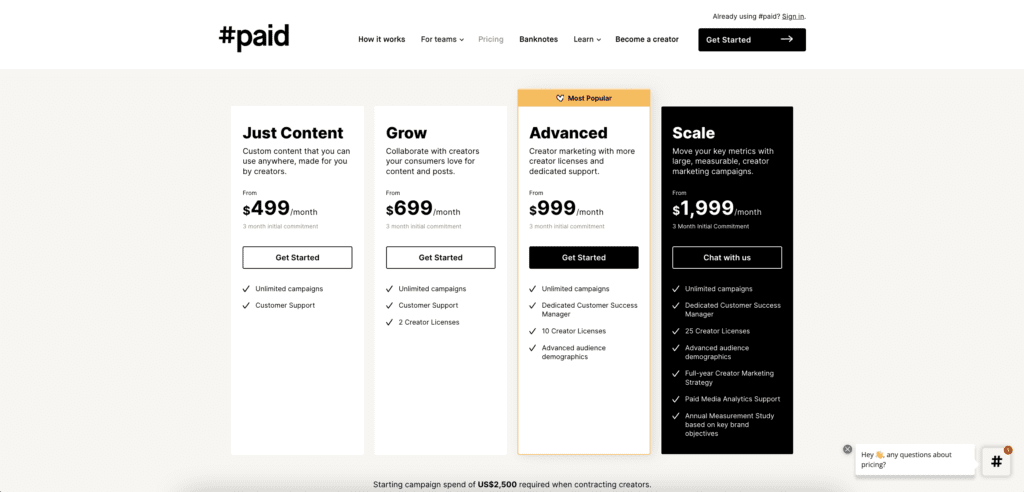 #Paid comes with the following plans
Just Content: $499 per month
Grow: $699 per month
Advanced: $999 per month
Scale: $1,999 per month
Grin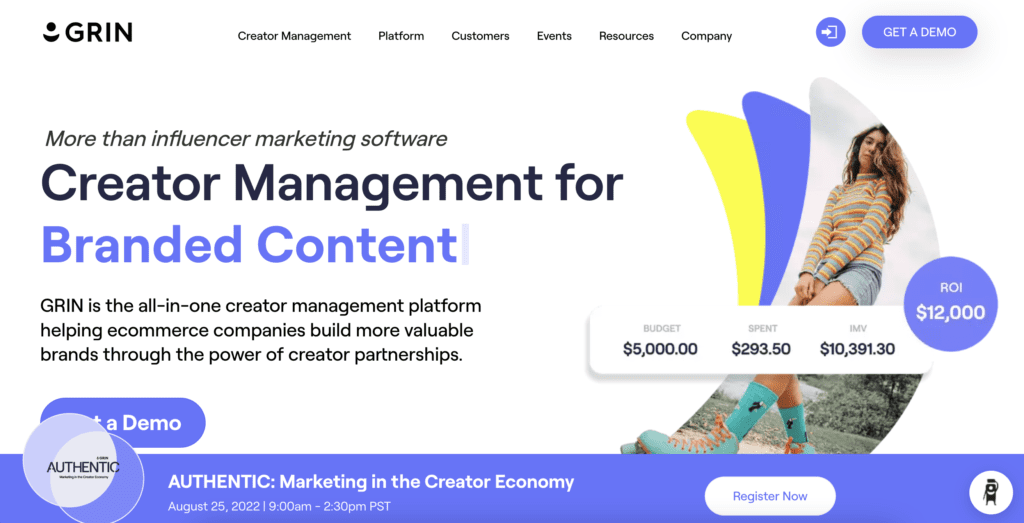 Grin Grin believes in building authentic relationships with influencers. This platform adapts to your business needs and streamlines your workflow with its advanced marketing management software. This software takes advantage of the real impact of influencers. It thinks influencer marketing is about building relationships with potential influencers, not selling to them.
Grin adapts its costs to fit the demands of its clients. Although Grin specializes in eCommerce companies with integrations into major shopping platforms, it serves many different industries.
Grin is a marketing management software that combines a top-tier program's essential features and organizes them into the workflow. Grin integrates with Gmail, Outlook, WooCommerce, Magento, SMS, and Slack.
Pricing:
Offers a free product but has packages that scale with you.
Klear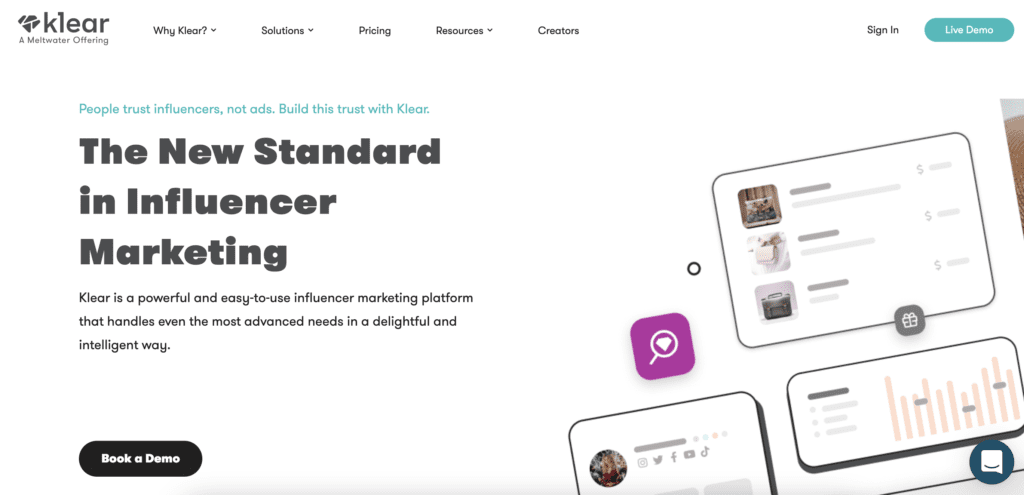 Klear's extensive influencer database and in-depth analytics make it a top choice for brands. With its ability to filter influencers on various grounds, this software simplifies your influencer search.
Klear is a free, cloud-based service that's designed for influencer marketing. Klear categorizes influencers into 60,000 distinct categories and analyzes their demographics and psychographics. Klear is one of the best because it has a database of more than 900 million influencers. It also offers deep insights into who those influencers are and what their audiences are like. Klear can also help with campaign management and tracking. It's not as good for listening to your competitors, but it has excellent data and analytics. You may filter the influencer lists by social media network, audience size, skills, location, keywords they use, and demographic information about influencers and their followers. It's essentially a database of influencers, so the search isn't difficult.
Klear also lets you evaluate the outcomes of your influencer marketing efforts to identify the most effective ones.
Pricing
: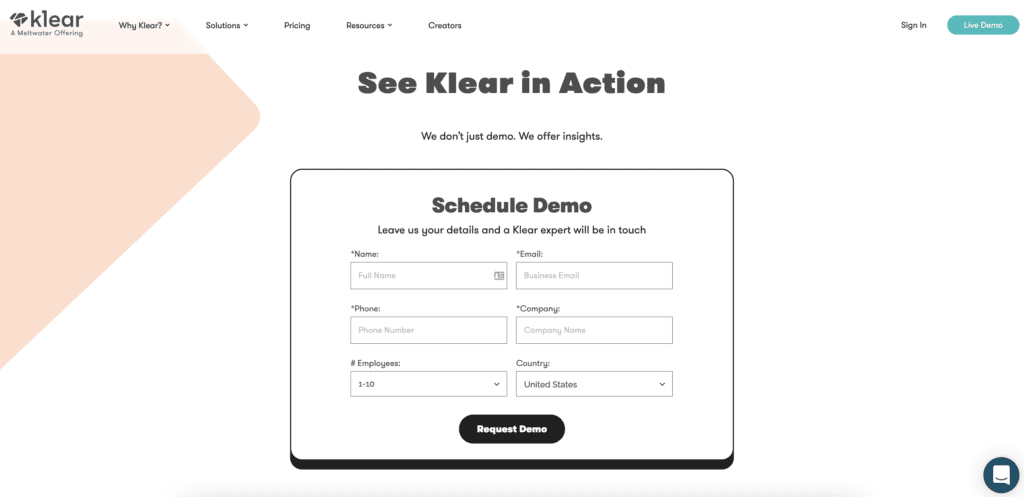 Klear has a Freemium product, with paid plans available upon request.
Upfluence stands out with its real-time influencer analysis and refined search features. The platform's comprehensive insights about each influencer help brands create successful campaigns.
Upfluence is a full-scale influencer platform that offers a well-rounded set of features, including the ability to analyze and index influencers in real time and refine searches using keywords and other factors. The plugin also offers instantaneous, cutting-edge analytics for any influencer across their social media accounts.
Upfluence has a database of over two million influencers. Upfluence can also examine each influencer's area, reach, interaction, location, demographics, the influencer's typical posting hours, and the sort of material they publish most frequently.
Upfluence also tries to distinguish between genuine and phony influencers. It can immediately give you the influencer's price for uploading on YouTube and Instagram. You may analyze brand affinities, cultural interests, and more for Instagram influencers.
Pricing: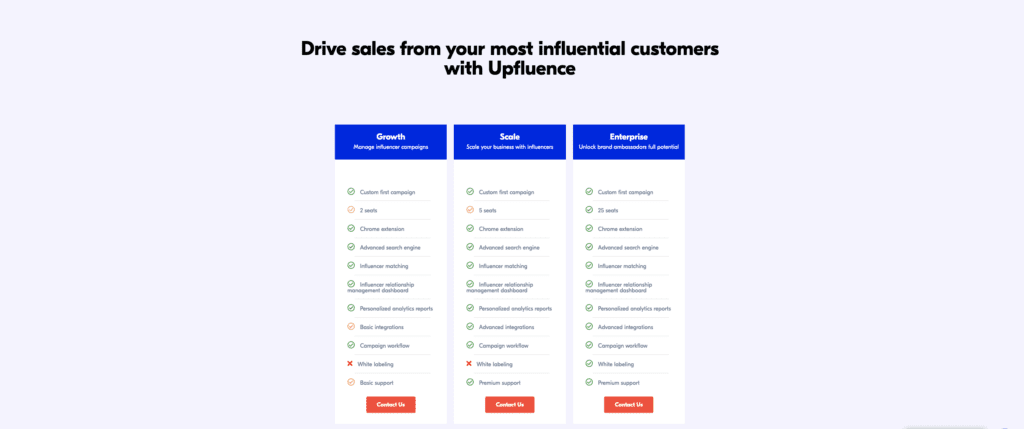 Upfluencer comes with the above plans that you will need to contact them about. We have found out that the Growth plan starts at $795 per month for 500 contacts.
Wrap Up
Several different software exists to help identify influencers for your business or brand. Each has unique benefits, and it's essential to find the one that best suits your needs. #Paid is excellent for companies who want more control over their influencer campaigns, while Traackr excels at tracking the effectiveness of influencer marketing efforts. Grin offers an easy-to-use platform focused on building relationships with potential influencers, and Klear is perfect for companies who want in-depth insights into their audiences. Ultimately, your best software depends on your specific needs and goals.
Regardless of your chosen software, it's important to remember that influencer marketing isn't about selling to influencers. It's about building relationships and creating content that resonates with your target audience. By understanding your customers and using the right tools, you can create successful influencer campaigns that drive actual results.
Remember, influencer marketing is about building relationships and generating resonating content. By leveraging the right tools and understanding your audience, your influencer campaigns will deliver impactful results.
Also, be sure to sign up for our newsletter, The Take, and join 100's of people to get weekly insights into the entertainment and F&B marketing space. I look forward to seeing you there!