TikTok is one of the world's most popular social media platforms, with over a billion active users. So, if you're looking to grow your TikTok following, you're probably wondering when the best time to post is. This is a difficult question as TikTok is constantly changing and evolving. However, a few things to keep in mind can help you make the most of your TikTok postings.
Table of Contents
Understanding How To Post On TikTok
For starters, it's essential to understand that TikTok is used by people worldwide. This means there is no single "best time" to post that will work for everyone. Instead, you'll need to experiment to determine what works best for your audience.
In general, it's a good idea to post during peak times for your time zone. For example, if you're in the United States, you'll want to post during times when your TikTok users are most active.
You can also take advantage of TikTok's algorithm by posting at times when TikTok is likely to push your content out to more people. This includes posting during "prime time" hours and using popular hashtags.
Of course, the best time to post on TikTok will ultimately depend on your specific goals and audience. You should experiment with different times of the day and week to see what gets you the best results.
This post from Recurpost.com lays out some ideal times to post in different time zones worldwide. This is an excellent place to start your experiments.
Luckily, we also have many tools to choose from that help us determine the best time to post on TikTok that will analyze the times your users are most active and times when your posts across all social media platforms are performing their best.
Here are Four Tools To Help
CrowdFire
Crowdfire is a great tool. It allows you to create content and schedule posts and has an analytics section to gauge the performance of each post.
Crowdfire helps you better understand what content works best for your audience and how you can improve your social media strategy.
TikTok works well with Crowdfire and, like the other tools mentioned in this post, comes with a downside. To use Crowdfire, you must first download the mobile app on your phone. You can then schedule your posts for the day or the week. You cannot edit the posts inside the app or on your computer, and any editing of the videos posted must be done before uploading them into Crowdfire.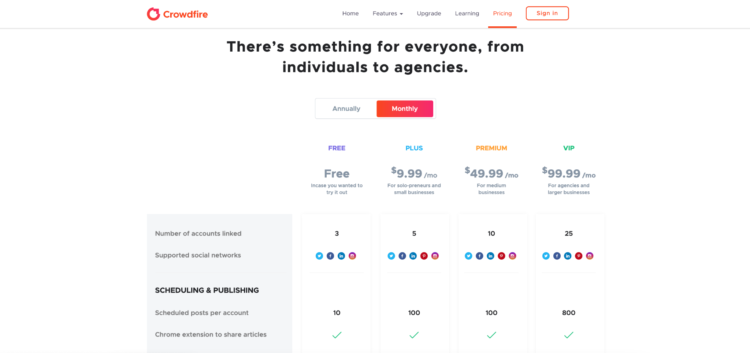 Pricing:
Free plan or Paid plans that start at $9.99/Mo for the Plus Plan, 49.99/Mo for the Premium Plan, $99.99/Mo for the VIP Plan.
Hootsuite
Hootsuite just released its newest feature allowing for the posting of TikTok's. The only issue you will run into is that you cannot add text to the video posts, you can add your captions, and you cannot add TikTok-related music to your posts. These must be done with another tool and edited before uploading your videos into TikTok.
This is an excellent option if you are not worried about the ever-changing trends and want to use the other tools that Hootsuite offers, such as a robust analytics platform.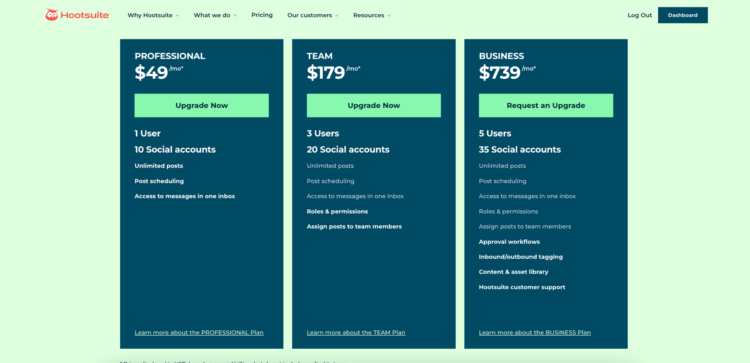 Pricing:
Hootsuite has a free option that allows for two social media profiles and is severely limited in other features. They also offer multiple paid options, Professional: $49/Mo, Team $179/Mo, Business $739/Mo, and Enterprise level, and you need to contact a representative.
Loomly
A relatively newcomer that is taking the social media posting world by storm is Loomly. They offer a simple-to-use, easy UI, and affordable option compared to many other companies.
Like Hootsuite, you will have to create and edit your posts outside of the platform to post them up to your liking, but they have had TikTok posting for quite some time and have allowed them to win a good share of people over because of this feature.
We have used Loomly for about a year now and have not had any problems with them. The system is no fluff but gets the posting job done.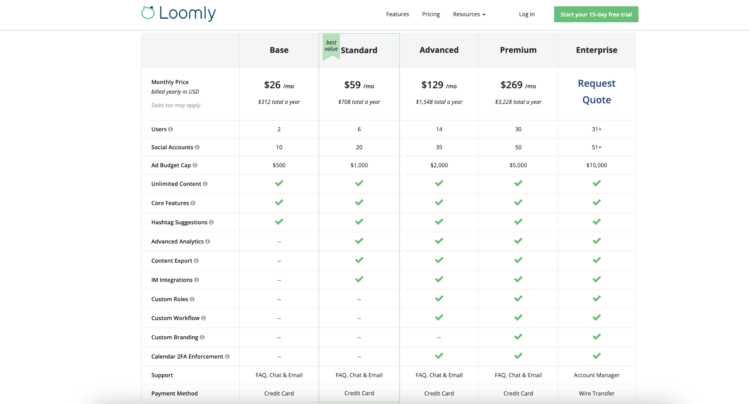 Pricing
15-day free trial and then four paid options. Base $26/Mo ($312 total a year), Standard $59/Mo (708 total a year), Advanced $129/Mo ($1,548 total a year), Premium $269/Mo ($3,228 total a year), lastly they have an enterprise option that you will have to reach out to a representative to get more information.
SocialPilot
SocialPilot is an outstanding social media management tool used by mainly SMBs and smaller agencies. It has a decent amount of tools that will not overwhelm a user but allow for basic tracking, replies, and a robust social posting tool.
SocialPilot supports post-scheduling for TikTok. Like the other platforms mentioned, SocialPilot will notify you when it is time to post, then take you to their app, where you can click your post and be taken to TikTok to upload your content.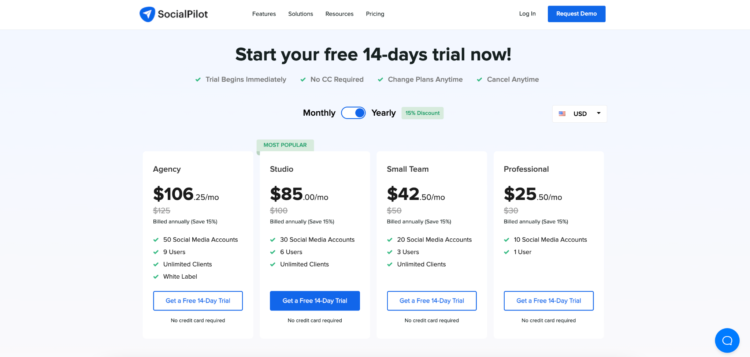 Pricing
SocialPilot starts at $30/month for Professional Plan, $50/Mo for Small Team Plan, $100/Mo for Studio Plan, and $125/Mo for Small Agency Plan.
Wrap Up
All of the social media management tools listed above support post-scheduling for TikTok. This means that you can write your posts ahead of time and have them go live at the designated time. All of these platforms also offer free trials, so be sure to test out a few to see which one works best for you. Each forum has its strengths and weaknesses, so it is crucial to find the one that will work best for your business needs.
Now that you know a little bit more about scheduling posts for TikTok be sure to put this knowledge to good use and start experimenting with different content to see what works best for your audience. Remember, social media is all about trial and error, so don't be afraid to experiment!
Check out our posts on social media, the best software to use, and more on our email newsletter, The Take.