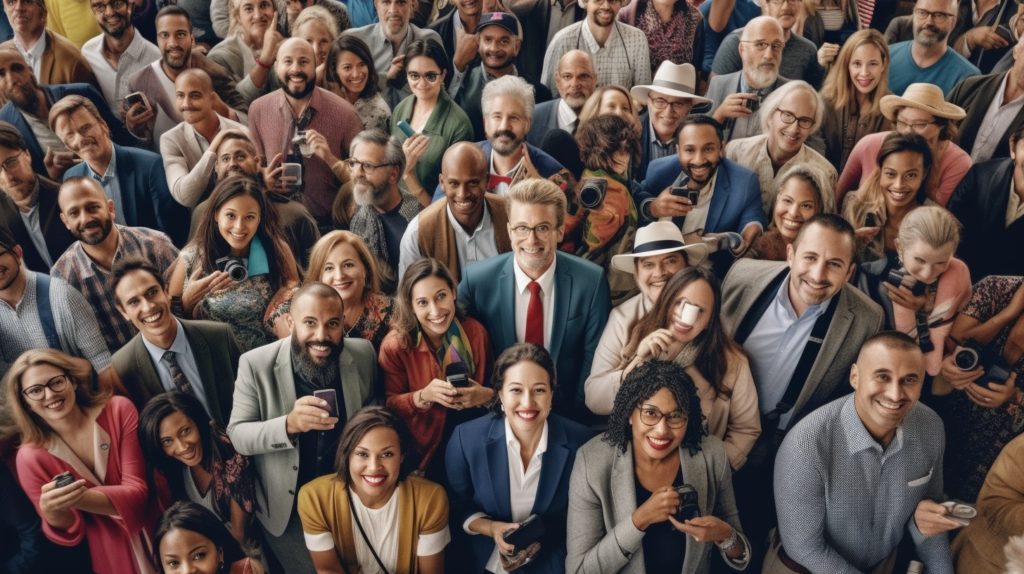 As an entertainment marketer, building a loyal fanbase requires showing your audience you truly care. Your fans are not just a means to an end. You need to create meaningful connections that go beyond just pushing content.
Think of your audience like key ingredients when cooking. You want to use quality ingredients (your fans) to thoughtfully create an amazing dish (your content).
The same care should go into your entertainment marketing. Provide value to your fans, not just sell to them.
Table of Contents
6 entertainment marketing tips to help you show more love to your audience
1. Engage with Fans on Social Media
Being active and engaging with fans on social media platforms like Twitter, Instagram, and Facebook shows you want to have a two-way relationship with your audience. Reply to comments from fans, host impromptu Q&A sessions, run polls to get quick feedback, and host contests to get fans excited. The more you can interact directly with fans online, the more they'll feel a real connection.
2. Prioritize Diverse Content
Take steps to ensure your content represents and appeals to a wide, diverse audience. Feature talent from different backgrounds, orientations, abilities, and perspectives. Also, tackle substantive social and cultural issues when appropriate. When fans see themselves reflected in your content and feel you are speaking to them directly, they are much more likely to connect with your brand and become loyal supporters.
3. Listen and Adapt Based on Feedback
It's important to closely monitor what your audience is saying about your brand across social media and other channels. If they offer criticisms, suggestions, or requests, be sure to listen, take it seriously, and make adjustments when possible. Being adaptive and responsive to fan feedback shows you truly have their best interests in mind. This level of care builds trust and loyalty with your audience.
4. Understand Your Fans Deeply
Leverage audience analytics and data to develop an in-depth understanding of who your fans are—their demographics, psychographics, interests, values, and motivations. Segment your audience into groups based on factors like location, gender, age, interests, etc. Knowing your fans intimately allows you to craft content tailored to resonate most powerfully with different groups in your audience.
5. Put Fans' Needs First
Before creating any new content, campaigns, products, or promotions, carefully consider what would truly get your fans excited or provide them value. Lead first and foremost with their declared interests, needs, and preferences rather than your own goals and bottom line. Prioritizing your audience at every stage earns their respect and appreciation.
6. Align Content with Fan Interests
Analyze the themes and topics your fans consistently engage with and care about, then create content that taps directly into those interests. This could mean producing behind-the-scenes footage, interviews with talent, commentary on pop culture, or anything else that your audience responds well to. Content created with the fan experience in mind helps strengthen your connection.
Managing an effective entertainment marketing strategy requires having the right tools.
The 4 Best solutions to boost results:
Notion
Notion is an all-in-one workspace for organizing your entertainment marketing campaigns, content, and team projects in one centralized hub. The flexible databases and templates allow me to customize Notion to fit my workflow perfectly. While it has a bit of a learning curve, once mastered Notion is incredibly powerful. Pricing starts at free for individuals and goes up to $8 per user/month for teams.
Jasper
Jasper is an AI content generation tool that creates high-quality blog posts, social captions, and other marketing copy tailored to my brand. It's easy to create custom Jasper templates optimized for my tone of voice. This saves me hours of writing time. Pricing starts at $29/month for individuals and up to $599/month for agencies. The time savings justify the cost for me.
Magic Studio
Magic Studio is my go-to for quick photo editing and touch-ups. It removes backgrounds easily and has features like blemish removal, color correction, and resizing. I don't have to rely on complex Photoshop work for simple edits. Pricing starts at $7.99 per month, making it very affordable.
HypeFury
HypeFury is a social media automation tool that saves time scheduling and analyzing my posts. It has great analytics to see what content resonates best. The tool starts at $49 per month but has helped grow my following.
Conclusion
Showing genuine appreciation and care for your fans is the best way to build an engaged community around your entertainment brand. Avoid seeing your audience merely as a means to an end. Instead, focus on creating value, representing diversity, and fostering meaningful connections.
Implementing the entertainment marketing tips and tools outlined above will help you put your fans first. When you prioritize your audience and meet their needs with remarkable content, you'll earn their trust, loyalty, and support for the long haul. Remember—your fans are your most valuable asset. Treat them as such, and they'll return the favor by fueling your continued success.
With an audience-centric mindset and the right strategies in your toolbelt, you have everything you need to grow and strengthen your fanbase. Now get out there and show your community some love!
Let me know if you have any other entertainment marketing questions—I'm always happy to help however I can.