As a marketer, you understand the importance of having a clear and compelling website that effectively communicates your brand and message. However, marketers often overlook two crucial elements: terms and conditions and a privacy policy.
Terms and Conditions
What are Terms and Conditions?
Terms and conditions, also known as terms of service or terms of use, are legally binding agreements between a business and its customers. They outline the rules and policies that govern the use of a website or product, and they serve to protect the interests of both parties. Terms and conditions may cover various topics, including acceptable use, intellectual property, disclaimer of liability, and jurisdiction. By accessing or using a website or product, customers agree to be bound by the business's terms and conditions. Companies need to communicate their terms and conditions to customers clearly, and for customers to carefully review and understand these terms before using a website or product.
Having terms and conditions on your website may seem like a low priority, but it is vital to any successful online business.
Dangers of Not Having Terms and Conditions
Failing to have terms and conditions on your website can be dangerous for several reasons. Firstly, it can put your business at risk of legal issues. Without terms and conditions, you have no legal basis for enforcing rules or limiting your liability. This can open the door to legal disputes and costly legal fees. For example, a business that does not have terms and conditions may be sued for copyright infringement if a user posts infringing content on their website. Similarly, a company that does not have terms and conditions may be held liable for its users' actions if those actions harm others.
Secondly, not having terms and conditions can damage your reputation and trust with customers. Customers expect to see terms and conditions on a website, and their absence can raise red flags and make customers question the transparency and honesty of your business.
Overall, businesses need to have clear and practical terms and conditions to protect their interests and build customer trust.
Privacy Policy
What is a Privacy Policy?
A privacy policy is a legal document that outlines how a business collects, uses, and protects the personal data of its customers. Personal data refers to any information that can be used to identify an individual, such as name, email address, and payment information. A privacy policy helps businesses comply with laws and regulations related to the handling of personal data, and it helps build trust with customers by demonstrating that the company takes their privacy seriously. A privacy policy may cover a wide range of topics, including what personal data is collected, how it is collected, how it is used, and how it is protected. It is important for businesses to have a clear and effective privacy policy in place, and for customers to carefully review and understand this policy before providing their personal data to a business.
Dangers of not having a Privacy Policy
Failing to have a privacy policy on your website can be dangerous for a number of reasons. Firstly, it can put your business at risk of legal issues. Without a privacy policy, you have no legal basis for collecting, using, and protecting the personal data of your customers. This can lead to legal disputes and costly legal fees. For example, a business that does not have a privacy policy may be sued for failing to protect the personal data of its customers.
Secondly, having a privacy policy can protect your reputation and trust with customers. Customers expect to see a privacy policy on a website, and its absence can raise red flags and make customers question the transparency and honesty of your business. In addition, customers may be hesitant to provide their personal data to a business that needs a clear and effective privacy policy in place.
Overall, businesses need to have a clear and effective privacy policy to protect the company's and its customers' interests.
The Difference Between The Two
So, what is the difference between a privacy policy and terms and conditions? While both documents outline the rules and policies of your website, there are some key differences.
Terms and conditions generally cover the overall use of your website, including acceptable use, intellectual property, and disclaimer of liability. A privacy policy, on the other hand, specifically deals with collecting, using, and protecting personal data.
For example, a privacy policy might outline how you collect and store personal data, such as names, email addresses, and payment information. It also outlines how you use this data, for marketing purposes or to improve your products and services.
In short, while terms and conditions cover the general use of your website, a privacy policy focuses specifically on handling personal data.
So why is it essential to have a privacy policy on your website? There are a few key reasons:
Legal compliance: In many cases, having a privacy policy on your website is a legal requirement. For example, if you are collecting personal data from users, you must have a privacy policy. By including a privacy policy on your website, you can ensure that you comply with all relevant laws and regulations.

Build trust with customers: A privacy policy can help build trust with your customers. It shows that you are transparent about how you handle their personal data and that you take their privacy seriously. This can go a long way in building customer loyalty.

Avoid legal disputes: Without a clear and effective privacy policy, you run the risk of legal disputes related to the handling of personal data. Having a privacy policy in place can help prevent misunderstandings and ensure that your business operates within the bounds of the law.
Why They Are Important
Terms and conditions and privacy policies are essential for several reasons. Firstly, they help protect your business from potential legal issues. You can reduce the risk of misunderstandings and legal disputes by outlining the acceptable use of your website or product and clarifying your policies on topics such as returns, refunds, and privacy. Secondly, having clear and transparent terms and conditions and privacy policies can help build trust with your customers. It shows that you are open and honest about your business practices, which can go a long way in building customer loyalty. Finally, sometimes, having terms and conditions and a privacy policy on your website or product is a legal requirement. By including these documents, you can ensure that you comply with all relevant laws and regulations. Overall, terms and conditions and privacy policies are crucial elements of any successful online business.
Here are just a few reasons why you should consider adding terms and conditions to your website:
Protect your business: By including terms and conditions on your website, you can protect your business from potential legal issues. You can use your terms and conditions to outline the acceptable use of your website, including what users can and cannot do on your site. This can help prevent legal disputes and ensure that your business operates within the law's bounds.

Clarify your policies: Your terms and conditions can be used to clarify your policies on returns, refunds, and privacy issues. This can help reduce the risk of misunderstandings and ensure that your customers know exactly what to expect when they do business with you.

Improve customer trust: Having clear and transparent terms and conditions can help build trust with your customers. It shows that you are open and honest about your business practices, which can go a long way in building customer loyalty.

Comply with legal requirements: In some cases, having terms and conditions on your website is a legal requirement. For example, if you collect personal data from users, you must have a privacy policy. By including terms and conditions on your website, you can ensure that you comply with all relevant laws and regulations.
Recommendations
Writing our Terms and Conditions and Privacy Policies can be time-consuming and intense. One of our top choices to expedite adding Terms and Conditions and other Policies to your website is Termly.io.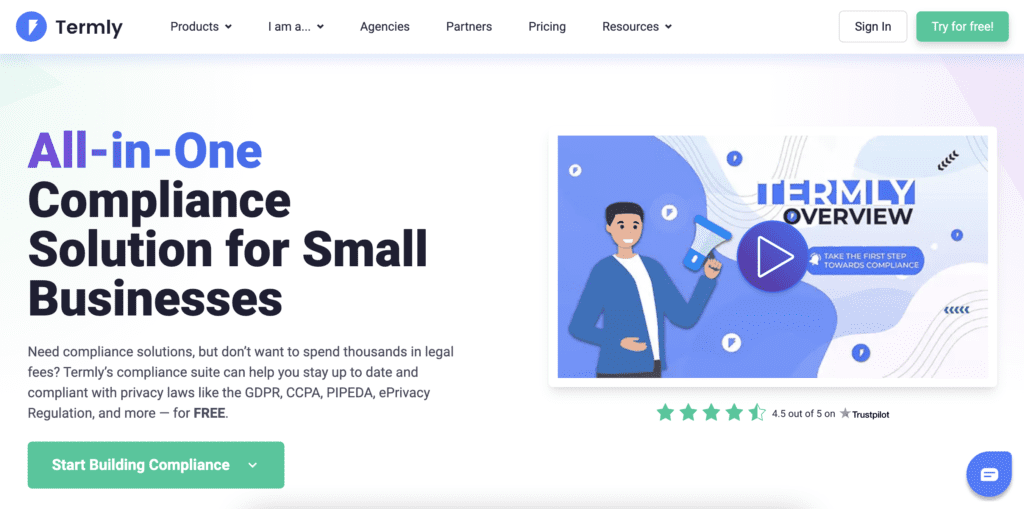 Termly is a top choice for businesses looking to add terms and conditions to their websites. One reason for this is that it is easy to use. The platform offers a simple, step-by-step process for creating custom terms and conditions tailored to your business needs. You can choose from various templates or create your own from scratch, and the platform provides guidance and recommendations.
Another reason to consider Termly.io is that it is a trusted and reliable resource. The company has been in business for over ten years and has helped thousands of businesses create custom terms and conditions. In addition, Termly.io fully complies with all relevant laws and regulations, so you can trust that your terms and conditions will be legally sound. Overall, Termly.io is an excellent choice for businesses looking to add terms and conditions to their websites.
Overall, having terms and conditions on your website is a simple yet essential step that can help protect your business and build trust with your customers. If you haven't already, consider adding terms and conditions and a privacy policy to your website today.